<![endif]-->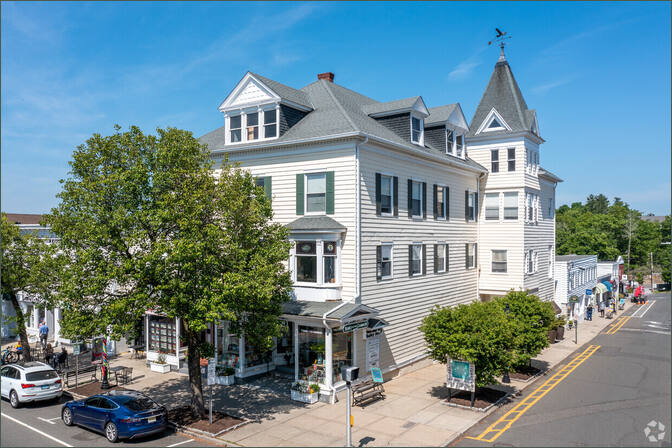 Main & Bailey
Ridgefield, Connecticut is located between the affluent communities of Danbury and Wilton in Fairfield County as well as the easterly towns of Northern Westchester. Within its town lines exist 35 square miles of picturesque historic character.
402-424 Main St; 1-25 Bailey Ave


Ridgefield

, CT

06810




Downtown, street-front property with a mix of retail, office, and residential apartments. Located in the heart of Main Street and Bailey Avenue. Historic, charming town.
Demographics
| | 1 Mile | 3 Mile | 5 Mile |
| --- | --- | --- | --- |
| Population | 4,972 | 21,751 | 41,865 |
| Daytime Population | 6,541 | 10,356 | 16,642 |
| Households | 2,129 | 7,712 | 14,966 |
| Avg HH Income ($) | 170,155 | 224,182 | 226,294 |
| Med HH Income ($) | 108,320 | 154,596 | 157,715 |
Highlights
For Lease
County: Fairfield County
Type: Retail, Office & Residential
Total SF: 35,000
Parking Spaces: 28

Leasing Representative
Elinor Biddle
Leasing Representative p. 203-863-8279

Main & Bailey
| | |
| --- | --- |
| Available | Coming Available |
Available Spaces
| | | | | |
| --- | --- | --- | --- | --- |
| 07 | 650 SF | | 406-03 | 650 SF |
| 412-04 | 280 SF | | 412-10 | 230 SF |
| 412-D | 305 SF | | 412-E | 195 SF |
| 412STE4 | 280 SF | | 412STE10 | 230 SF |
| 412STEE | 195 SF | | 424R | 3,410 SF |
| 424RSTE3 | 3,462 SF | | B09 | 1,090 SF |
| | | |
| --- | --- | --- |
| 03 | The Frame Shop | 1,055 SF |
| 05 | The Purple Frog | 955 SF |
| 09 | Chamber of Commerce | 1,090 SF |
| 13 | Elizabella's Bake Shop | 828 SF |
| 15 | Hutton's Menswear | 880 SF |
| 17 | Foot Relaxing Station | 80 SF |
| 19 | Subway | 1,100 SF |
| 23 | Bailey's Backyard Restaurant | 1,079 SF |
| 404A | Books on The Common | 2,150 SF |
| 404B | Keller Williams | 4,945 SF |
| 408 | Tazza Cafe | 1,260 SF |
| 412-01 | Peaceable Hill Paperie | 532 SF |
| 412-03 | Medicinal Skin | 218 SF |
| 412-05 | Medicinal Skin | 300 SF |
| 412-09 | Corporate Creations | 240 SF |
| 412-G | Sparks Exhibits & Environments | 1,000 SF |
| 412-I | Madison Executive Search | 150 SF |
| 412STE1A | Peaceable Hill Paperie | 532 SF |
| 414 | Sammy + Nat | 1,435 SF |
| 416 | Audrey Road Kids | 1,126 SF |
| 418-420 | Olley Court | 1,866 SF |
| 422 | 850 Pizzeria | 3,240 SF |
| 424 | Organika Kitchen | 1,085 SF |
| 424R-1 | 850 Pizzeria | 3,307 SF |
| 4241 | Organika Kitchen | 1,085 SF |
| B01 | Turkey Ridge Antiques | 2,730 SF |
| B03 | The Frame Shop | 1,055 SF |
| B05-07 | Audrey Road Kids | 1,915 SF |
| B13 | Elizabella's Bake Shop | 828 SF |
| B15 | Hutton's Men's Wear | 880 SF |
| B17 | Foot Relaxing Station | 800 SF |
| B19 | Subway | 1,100 SF |
| B23 | Bailey's Backyard Restaurant | 1,079 SF |
| B25-1 | Salvatore Bagliavio | 650 SF |
| RETA-B | Baja Cucina | 1,288 SF |
| RETAILC | Tablao Wine Bar & Restaurant | 2,851 SF |
| RETC | Tablao Wine Bar & Restaurant | 2,851 SF |
Main & Bailey